New Patients at Healthy Living Chiropractic
Welcome to Healthy Living Chiropractic. Our inviting and relaxed environment is the ideal place to begin your journey to healing and health!
Prior to your first visit, we ask that you complete your new patient paperwork. This paperwork provides us with your health history and information on your condition. The more we know, the more we can help, so please do your best to compete the paperwork in full.
ONLINE FORMS »

The First Visit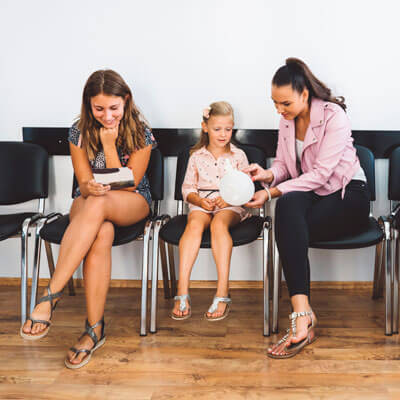 Upon entering our office, we will welcome you as a member of our family. We will collect your paperwork and take you to our consultation room to meet with Dr. Beth to discuss your current and past history and challenges. Dr. Beth will also discuss how chiropractic works and what makes our office different. This initial visit is designed for Dr. Beth to learn more about you, your condition, and expectations to determine how chiropractic care can meet your goals.
Following the consultation, you will be taken to our exam room for a complete and thorough exam. We begin with X-rays in most cases. X-rays help us develop the most effective treatment plan for you, and alert us of any serious spinal conditions. Following x-rays, a computerized exam will be performed using our Insight Technology. This technology allows us to measure the amount of stress on your nervous system and how it is functioning.
Following this initial visit, Dr. Beth will review the information collected and create a specific treatment plan to address your current health challenges. This first day is extensive, but should still be finished in about an hour.
The Second Visit
On your second visit, you will again be greeted and welcomed to the office. You will be taken to our consultation room to meet Dr. Beth to go over the results of your exam. This is referred to as your Report of Findings. Dr. Beth will discuss recommendations and your treatment plan. It's very important to us that you have a good understanding of what we discovered in your exam, and this visit allows us to answer any questions you may have. Dr. Beth will provide the best treatment and wellness program for your needs.
Following your Report of Findings, you will be taken to an adjusting room for your first adjustment. Once that adjustment is performed, you are on your way to improved health and wellness!
The entire 2nd visit should again take about 30 minutes, and will finish with scheduling of your next appointment.
Book Your Appointment
We look forward to making your first appointment and every visit a great one. Contact us today to book your time!
CONTACT US

New Patients at Healthy Living Chiropractic | (563) 552-7236