Pediatric Chiropractic at
Healthy Living Chiropractic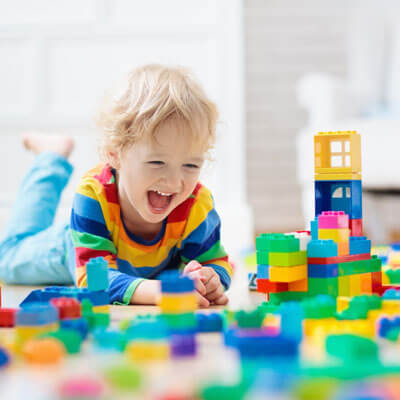 From the birth process itself to the various falls and bumps kids will experience as they grow, chiropractic care plays a critical role in keeping them healthy. This form of natural health care can remove interference in a growing child's nervous system, which can allow them to develop optimally and hit all their milestones.
How Do You Adjust Kids?
The short answer is gently! Dr. Beth has further education working with the pediatric population so she is highly skilled in using light-force adjustments on children. For infants, she applies about the same amount of pressure that's employed to check a tomato for ripeness. Children can either be adjusted manually with very little force used or with the Activator® instrument.
So although some parents are a bit nervous about their kids getting adjusted when they see it happen they may say, "Oh my, gosh; I get it. That was pretty awesome." Most kids jump on Dr. Beth's table and love getting adjusted!
The First Visit
After you schedule your child's appointment you can download new patient paperwork from our website, fill it out and bring it in completed. You also can elect to complete it when you get here. Next, Dr. Beth will do the following:
Take a full health history
Perform scanning with the Insight Subluxation Station (rolling thermal, muscle scan and Heart Rate Variability, also referred to as HRV)
We only will take X-rays on children if a fall or a break is suspected. If time permits that day, she will analyze the scans. Dr. Beth can either adjust your child that day or have you come back the next day.
The Second Visit
At this visit, we go over all of the information that was collected during the first appointment. This includes the scans from the Insight Subluxation Station and X-rays if they were taken. Then, Dr. Beth will provide you with a care plan for your child that addresses where we're starting and where we're hoping to go with our chiropractic care.
If you have insurance, she will review your information or what the cost of the care plan would be.
As a pediatric chiropractor, Dr. Beth will help your child feel at ease at every visit. If this is your child's first time seeing a chiropractor, she will explain that nothing is going to be painful. To make things fun, she will invite your child to take some toys back to play with during the exam.
We find that most kids are happy to be here and aren't nervous at all.
Book an Appointment
Contact Healthy Living Chiropractic in Peosta to schedule an appointment for pediatric chiropractic care!
CONTACT US

Pediatric Chiropractor Peosta IA | (563) 552-7236